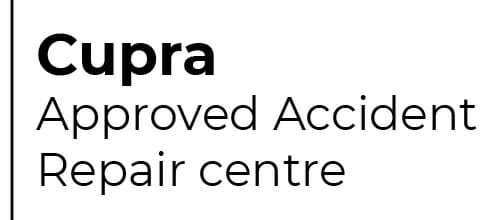 Wyndon Motors are an Approved Accident Repair Centre for Cupra.
Cupra is the high-performance motorsport subsidiary of the Spanish automobile manufacturer SEAT. Wyndon Motors is proud to hold the Cupra Approved Accident Repair Centre Charter. We only use Cupra Genuine parts to maintain your anti-corrosion warranty and all repair work is carried out by Cupra trained specialists using modern and sophisticated equipment.
Whether it be minor cosmetic repairs or structural repairs you require, Wyndon Motors Ltd have the technology to put your Cupra back to its pre-accident condition using the recommended refinishing materials and repair methods ensuring your vehicle is back to its' beautiful best!
Many motorists are still under the impression that they need to take their Cupra back to a main dealer for service or repair, otherwise it could affect their warranty. Be assured this is not the case. Under European regulations, renewed in 2010, Wyndon Motors as a Cupra approved Accident Repair Centre, can repair your car leaving your warranty intact.
For complete peace of mind, remember that Wyndon Motors only use original equipment or matched quality parts and lubricants, so your Cupra warranty is always protected.
The repairs to your vehicle are backed by the Cupra Repair Authenticity Guarantee to give you peace of mind that your car was repaired to the Cupra standards. When collecting your vehicle, you will be handed all of your paperwork in a branded Cupra pack.
Your Repair Authenticity Guarantee will be sent to you by email soon after the repairs are completed in addition to our CEM customer survey, which we kindly request you to complete.

Click here to find out more

If you've had an accident that wasn't your fault, you have the legal right to choose who repairs your vehicle don't let your insurance company compromise on quality on your behalf, call us first. Contact us today.