OUR NEW PREMISES FEATURE IN BODYSHOP MAGAZINE

Todd Engineering worked alongside the Morelli Group to install a full turn-key solution at Wyndon Motors in Coventry.
The installation includes two Spartan spray booths and a twin preparation bay, along with a Hades aluminium repair bay, Paint Mixing Room and a WORKY dust extraction system. The installation took four weeks to fully complete and stands proud against a new epoxy resin floor.
Wyndon Motors was established in 1964 in Keresley and is Coventry's oldest accident repair centre, serving the local community and businesses for over 55 years. In 2016, Martin Taylor retired, and Dave Beale took the business into its current incarnation. Dave has 40 years of experience in the trade, originally as a painter and then sales before taking on the mantel as the third business owner of Wyndon Motors Keresley Ltd. In the last five years, the business with Aston Martin Tier A approval, he jumped at the chance to move Wyndon Motors.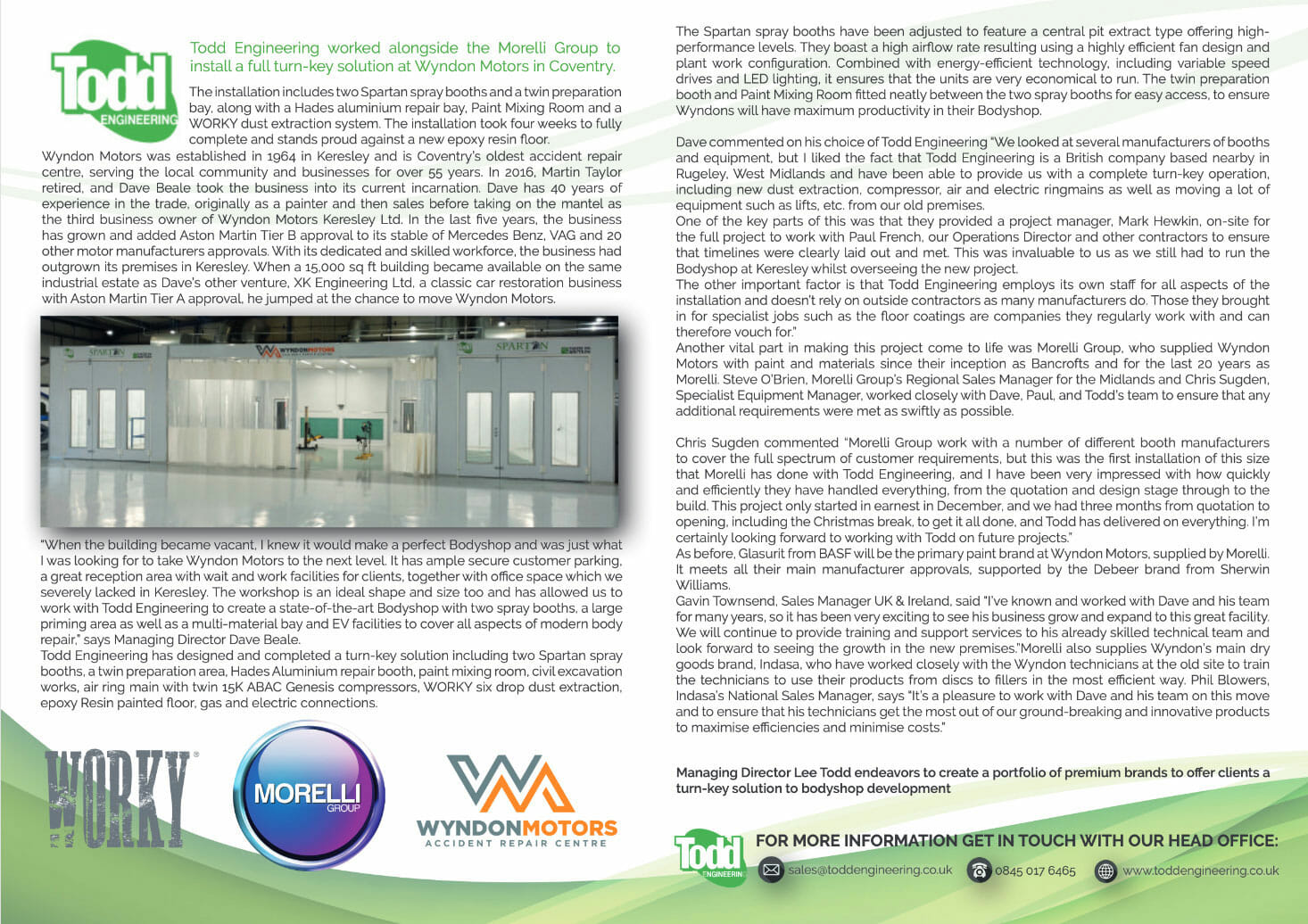 "When the building became vacant, I knew it would make a perfect Bodyshop and was just what I was looking for to take Wyndon Motors to the next level. It has ample secure customer parking, a great reception area with wait and work facilities for clients, together with office space which we severely lacked in Keresley. The workshop is an ideal shape and size too and has allowed us to work with Todd Engineering to create a state-of-the-art Bodyshop with two spray booths, a large priming area as well as a multi-material bay and EV facilities to cover all aspects of modern body repair," says Managing Director Dave Beale.
Todd Engineering has designed and completed a turn-key solution including two Spartan spray booths, a twin preparation area, Hades Aluminium repair booth, paint mixing room, civil excavation works, air ring main with twin 15K ABAC Genesis compressors, WORKY six drop dust extraction, epoxy Resin painted floor, gas and electric connections.
The Spartan spray booths have been adjusted to feature a central pit extract type offering high- performance levels. They boast a high airflow rate resulting using a highly efficient fan design and plant work configuration. Combined with energy-efficient technology, including variable speed drives and LED lighting, it ensures that the units are very economical to run. The twin preparation booth and Paint Mixing Room fitted neatly between the two spray booths for easy access, to ensure Wyndons will have maximum productivity in their Bodyshop.
Dave commented on his choice of Todd Engineering "We looked at several manufacturers of booths and equipment, but I liked the fact that Todd Engineering is a British company based nearby in Rugeley, West Midlands and have been able to provide us with a complete turn-key operation, including new dust extraction, compressor, air and electric ringmains as well as moving a lot of equipment such as lifts, etc. from our old premises.
One of the key parts of this was that they provided a project manager, Mark Hewkin, on-site for the full project to work with Paul French, our Operations Director and other contractors to ensure that timelines were clearly laid out and met. This was invaluable to us as we still had to run the Bodyshop at Keresley whilst overseeing the new project.
The other important factor is that Todd Engineering employs its own staff for all aspects of the installation and doesn't rely on outside contractors as many manufacturers do. Those they brought in for specialist jobs such as the floor coatings are companies they regularly work with and can therefore vouch for."
Another vital part in making this project come to life was Morelli Group, who supplied Wyndon Motors with paint and materials since their inception as Bancrofts and for the last 20 years as Morelli. Steve O'Brien, Morelli Group's Regional Sales Manager for the Midlands and Chris Sugden, Specialist Equipment Manager, worked closely with Dave, Paul, and Todd's team to ensure that any additional requirements were met as swiftly as possible.
Chris Sugden commented "Morelli Group work with a number of different booth manufacturers to cover the full spectrum of customer requBiordeymshoepnMtasg,azbinuet this was the first installation of this size that Morelli has done with Todd Engineering, and I have been very impressed with how quickly and efficiently they have handled everything, from the quotation and design stage through to the build. This project only started in earnest in December, and we had three months from quotation to opening, including the Christmas break, to get it all done, and Todd has delivered on everything. I'm certainly looking forward to working with Todd on future projects."
As before, Glasurit from BASF will be the primary paint brand at Wyndon Motors, supplied by Morelli. It meets all their main manufacturer approvals, supported by the Debeer brand from Sherwin Williams.
Gavin Townsend, Sales Manager UK & Ireland, said "I've known and worked with Dave and his team for many years, so it has been very exciting to see his business grow and expand to this great facility. We will continue to provide training and support services to his already skilled technical team and look forward to seeing the growth in the new premises."Morelli also supplies Wyndon's main dry goods brand, Indasa, who have worked closely with the Wyndon technicians at the old site to train the technicians to use their products from discs to fillers in the most efficient way. Phil Blowers, Indasa's National Sales Manager, says "It's a pleasure to work with Dave and his team on this move and to ensure that his technicians get the most out of our ground-breaking and innovative products to maximise efficiencies and minimise costs."
Managing Director Lee Todd endeavors to create a portfolio of premium brands to offer clients a turn-key solution to bodyshop development.